Belle de Boskoop apple
Belle de Boskoop was introduced in the 1850s in the Netherlands, and is still popular on the Continent. It is a large, lumpy, dull red apple, often with extensive russeting. There is also a modern "sport" with a darker red colouring but otherwise quite similar.

Belle de Boskoop is essentially a dual-purpose apple, suitable for both dessert and culinary uses. It works equally well in a savoury salad, or can be used sliced in continental-style apple pies and flans. Unlike the English Bramley cooking apple, Belle de Boskoop keeps its shape when cooked.

Eaten fresh, Belle de Boskoop is quite a sharp apple. This and its large size makes it unsuitable as a snack apple, but it can be nice cut into slices to share after a meal. The white-green flesh is dense with a very firm texture.

In summary, a versatile and unusual apple variety.


Last updated 18 Nov 2012.
A popular old dual-purpose apple from the Netherlands.
Origins
Species: Malus domestica
Originates from: Netherlands
Introduced: 1850
Orange Pippin Cultivar ID: 109600
Identification
Bultitude apple group: 7. Flushed / striped, some russeting, sweet
Using
Good for eating fresh
Good for cooking
Cooking result: Keeps shape
Vitamin C content: Low
Growing
Flowering period: Mid season
Flowering group: 3
Fertility: Self-sterile
Triploid: Yes
Poor pollinator: Yes
Vigour: Slightly large
Other qualities
RHS Award of Garden Merit 

1993
Disease resistance
Bacterial canker 

Pseudomonas syringae

  - Some resistance
Scab  - Some resistance
Mildew  - Some resistance
See also:
Karmijn de Sonnaville - Thought to be the male parent of Karmijn de Sonnaville (even though it is a Triploid)
Belle de Boskoop identification photos from official fruit collections
ARS GRIN
©Copyright

UK National Fruit Collection
©Crown Copyright
more >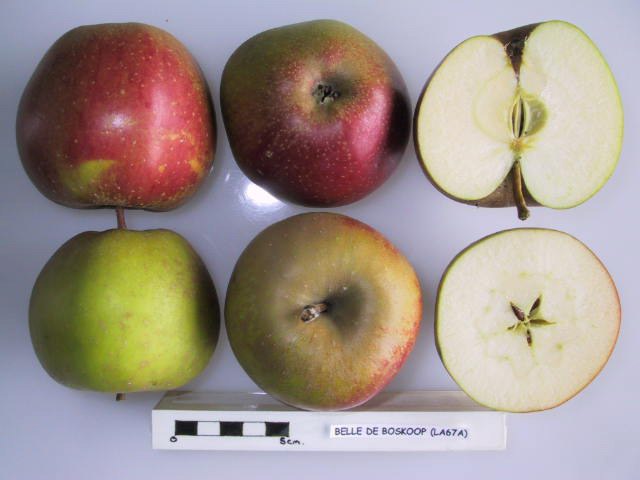 Belle de Boskoop identification photos from website visitors
Belle de Boskoop


Fruit tree register
Do you have a tree of this variety in your garden or orchard? If so please register the details here and contribute to our international register of fruit trees.
The following Belle de Boskoop trees have been registered - click the name to view more details of each tree.
You can also view these trees on a map.
United States
United Kingdom
Belgium
France
Germany
Moneva in Buehne-Borgentreich, Europe
Ireland
Netherlands
Sweden
Canada
New Zealand
Switzerland
Poland
Latest Spring blossom records for this variety
2013 season
26th April  2013  - tree owned by Florian in Brush Prairie, United States
2012 season
29th September  2012  - tree owned by Eric in Dunedin, New Zealand
10th May  2012  - tree owned by John in MADEIRA PARK, Canada
1st May  2012  - tree owned by Florian in Brush Prairie, United States
2011 season
May  2011  - tree owned by v in LUCKNOW, Canada
2010 season
2009 season
24th April  2009  - tree owned by N. in Cambridge, United Kingdom
Record your blossom dates in our Fruit Tree Register - more >>.
Latest harvest records for this variety
2013 season
4th week March  2013  - tree owned by Katrina in NELSON, New Zealand
2012 season
1st week November  2012  - tree owned by John in MADEIRA PARK, Canada
October  2012  - tree owned by Johan in GENT, Belgium
2011 season
1st week September  2011  - tree owned by v in LUCKNOW, Canada
2010 season
3rd week October  2010  - tree owned by Richard in LUBEC, United States
September  2010  - tree owned by Moneva in Buehne-Borgentreich, Germany
2009 season
2nd week October  2009  - tree owned by Johan in GENT, Belgium
Where to buy apple trees
The following fruit tree nurseries offer Belle de Boskoop apple trees for sale:
Keepers Nursery
United Kingdom  More >>
Where to buy apples
United Statesmap >